Structure fire ignites grasslands south of Hermosa, SD
The latest on the Alkan Fire south of Hermosa, S.D.
---
Monday, Aug. 13, 1:15 p.m.
Firefighters battled a wind-driven structure fire that resulted in a grass fire Sunday afternoon. Just after 2 p.m. on Sunday, first alarm resources from Battle Creek, Rapid City, Rapid Valley, and Rockerville fire departments were dispatched to 24229 Marge Court for a report of a structure fire. The fire was reportedly threatening other structures nearby.
The fire was named the Alkan Fire by incident command after nearby Alkan Road.



Photo courtesy of the Battle Creek Fire Department
When Battle Creek firefighters arrived, they found a garage and a shed fully involved in fire. An adjacent garage-type structure was also threatened, as was a primary residential structure. The fire – fanned by sustained winds of 20 mph from the south – was also pushed into nearby grass and was spreading to the north toward other structures, including at least three primary residences. An additional alarm was struck to resources to assist with the developing wildland fire.?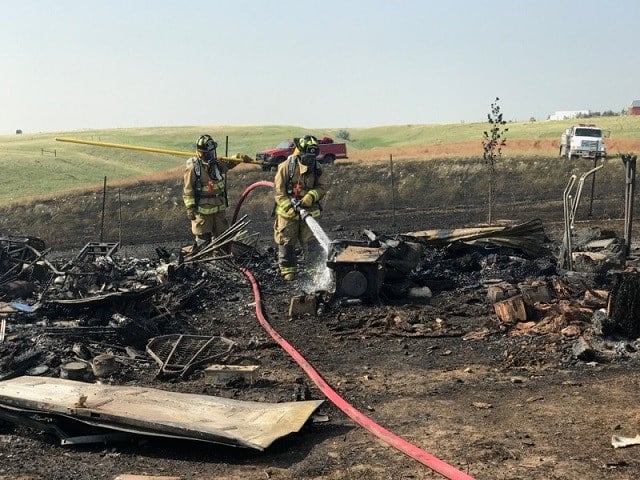 Photo courtesy of the Battle Creek Fire Department
As firefighters worked to knock down the structure and wildland fire and protect structures, a firefighting aircraft working the Vineyard Fire near Hot Springs, S.D. flew overhead. Apparently recognizing the threat to nearby structures, the aircraft – known as Tanker 41 – circled and then made a retardant drop ahead of advancing flames. The aircraft again circled and made a second drop ahead of the fire front. Through these drops, combined with the hard work of firefighters and neighbors on the ground, the forward progress of the fire was stopped.



Photo courtesy of the Battle Creek Fire Department
Firefighters worked diligently for about three hours to mop-up and extinguish hot spots. Temperatures around 95 degrees Fahrenheit and gusty winds at 30 mph made suppression and mop-up efforts difficult. One firefighter was evaluated for heat-related illness symptoms. No other injuries or illnesses were reported.

The fire consumed about six-tenths of an acre of grass. That acreage is a decrease from earlier estimates of 3 acres and is a result of accurate GPS mapping. Two outbuildings including one garage and one shed were destroyed. A third outbuilding was damaged but saved by firefighters. The primary residential structure on the property of origin also received minor damage from radiant heat.

The cause of the fire is under investigation.?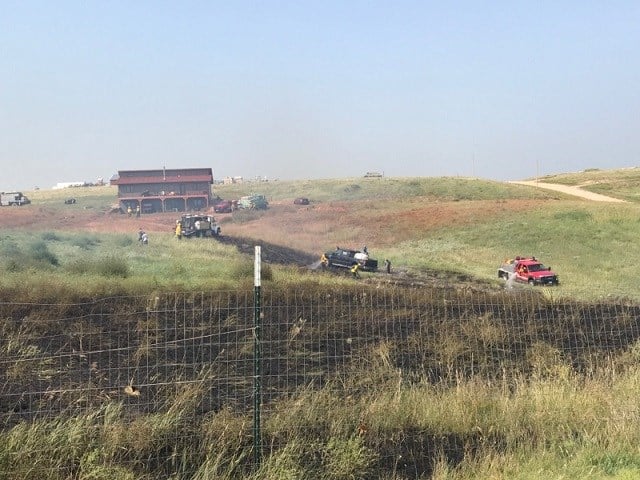 Photo courtesy of the Battle Creek Fire Department
Agencies responding to the fire included: Battle Creek Fire (Keystone, Hayward and Hermosa stations), Rapid City, Rapid Valley, Whispering Pines, Box Elder, North Haines, Fairburn, Interior, and Folsom fire departments. Firefighters from the U.S. Forest Service, as well as the 28th Bomb Wing at Ellsworth Air Force Base, responded as well. West River Electric responded to the fire to assist with securing utilities.

The fire occurred under red flag conditions for high winds, low relative humidity, and high temperatures. These conditions are expected to persist for at least the next 24 hours. Firefighters will take the opportunity to remind everyone that one less spark means one less wildfire. During these conditions, please be careful with potential sources of ignition.
Information from the Battle Creek Fire Department
__
Sunday, Aug. 12
A structure fire caused a propane tank to ignite causing a small grassland fire south of Hermosa, S.D.
Extreme heat and lack of moisture equate to high fire dangers in the area, and the southern Black Hills have been hit hard this weekend. Sunday at approximately 2 p.m., Battle Creek, Rapid Valley, and Rapid City fire departments responded to a structure fire in which a propane tank had exploded due to the flames.
Battle Creek Fire Department confirmed the blaze dubbed the Alkan Fire turned into a wildland fire with one outbuilding destroyed and another outbuilding damaged. Ten other structures are threatened at this time with approximately 3-5 acres of grassland burned. Forward progress of the flames has been stopped and is at 100 percent containment.
A firefighter was treated for heat exhaustion and has been reported to be recovering well. No other injuries have been reported at this time.