RAPID CITY, S.D. — The Fork Real Community Café is a nonprofit designed to help those struggling get a free meal. In the spirit of giving back, Fork Real has granted a local teen a birthday wish, allowing her to come in and be a guest chef and prepare a meal for her family and friends.
Ella Swanson is a freshman at Stevens High School and has had a passion for cooking since she was four years old, when she made cupcakes for her birthday party. And now, 11 years later, Ella is still cooking things up for her birthday.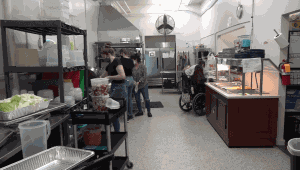 Rhonda Pearcy, Director of Fork Real Community Café, said, "Ella loves cooking. She cooks at school she is taking some courses with that. I'm a former teacher and so I continue to love to teach cooking and so I love it when someone loves to learn about cooking. And so Ella loves learning and she knows so much already and so she is just gonna be amazing."
The meal will consist of potato leek soup and pretzel stick appetizers with the main course being corn beef, cabbage, and red potatoes. An Irish cream chocolate bread pudding, which Ella helped plan, will be dessert.
"Ella is really taking up the night with all of her friends and family that will be here, and we have others just supporting Fork Real for the evening," said Pearcy.
Fork Real relies heavily on volunteer work to help prepare food and set tables and for Ella's special night; some of her friends even decided to lend a hand in the kitchen.
Pearcy also said, "Ella's friends have come to support her, yesterday we were doing some prepping and I got to hear some stories they have been together since like second grade," and Ella confirmed that by saying, "yes it is."
Fork Real expects over 40 people to attend the four course meal to help celebrate Ella Swanson's birthday with her.
Categories:
ConnectCenter1-Events
,
ConnectCenter1-Family
,
Local News
Tags:
15-year-old
,
Ella Swanson
,
Fork Real Community Cafe
,
German meal
,
Rhonda Pearcy
,
Stevens High School
Looking for more news and information? NewsCenter1 Media Group has you covered go to NC1.TV today for all of your Western South Dakota and Wyoming news today.