RAPID CITY, S.D. — After a down 2020 tourism year in South Dakota, the state's second largest industry rebounded with epic proportions.
According to the South Dakota Department of Tourism, the state saw a record year for visitation, which rose 26 percent from last year, with 13.5 million people exploring the state.
As far as spending from over the last five years, the state has seen tourism revenue from visitors consistently grow each year around two to three percent.

With the pandemic being an anomaly, the state saw its revenue jump six percent compared to a 'normal' year and rose 30 percent from last year's $3.3 billion to $4.4 billion.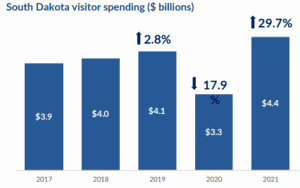 "It was a phenomenal year and just again showed how much tourism impact South Dakota economically and with the quality of our lives," said South Dakota Secretary of Tourism Jim Hagen.
According to Visit Rapid City, with 11 months of data from last year's numbers, the Black Hills saw a record 12.4 percent growth from 2019 with numbers still coming in for December.
That record year in tourism was met without one of the state's main demographic for tourism, international travelers. With many countries still facing restrictions due to the pandemic, their citizens were unable to travel.

Before the pandemic, the state would consistently see over $100 million in revenue from international travelers. These past few years, the state has seen a quarter of that revenue ($19 million in 2020 and $22 million in 2022).
"We're optimistic and I know the whole industry is really working to rally behind bringing back international travel and and being safe and smart about it, but really allowing those individuals to visit the whole us," said Stacie Granum, the Interim President & CEO of Visit Rapid City.
Despite the pandemic keeping those travelers at bay, South Dakota still broke the record to domestic travelers.
That gives the department of tourism hope for a strong 2022. Couple that with a study by the U.S Travel Association, which projects a 12 percent rise in the total number of trips taken by us families.
"They are excited about traveling," Hagen said. "They want to see things like historic places, they want to spend time outdoors, state parks, national parks. We have all of that in spades in South Dakota."
Categories:
ConnectCenter1-Business
,
ConnectCenter1-Events
,
ConnectCenter1-Family
,
Local News
,
South Dakota News
Tags:
Black Hills
,
Rapid City
,
Secretary of Tourism Jim Hagen
,
south dakota department of tourism
,
South Dakota Visitors
,
Stacie Granum
,
tourists
,
visit rapid city
Looking for more news and information? NewsCenter1 Media Group has you covered go to NC1.TV today for all of your Western South Dakota and Wyoming news today.